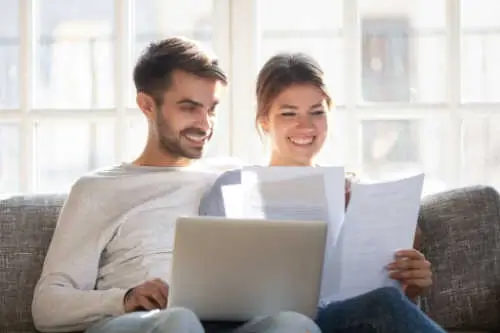 If you qualify for a VA Loan, you will get some of the best mortgage terms and rates in the industry, including 0% down payments and no minimum credit score.
However, starting the process for any home loan can be daunting. One of the first things you can do is gather all the required documents that you will need for the VA loan application.
VA Loan Document Checklist
Certificate of Eligibility
Perhaps the most important document for VA loan qualification, a Certificate of Eligibility  (COE) is a document from the military verifying that you meet the service requirements for VA loan benefits. You can obtain your COE from a VA-approved lender or online through the eBenefits portal.
Statement of Service
A statement of service is a letter that proves a military member's current or past employment in the military. It will include the dates of service, the pay rate, and type of discharge. If you have already left military service, you can provide a DD-214 Form or Certificate of Release or Discharge from Active Duty. If you are a surviving spouse, you will use the DD-214 to qualify.
Government-Issued ID
This could include your Driver License, passport, or state-issued identification card.
Income Evidence
This could be your most recent paystubs or documents proving your self-employment income.
Tax Returns
Most lenders will want to see the past two years' worth of federal tax returns or 1099s.
W-2 Statements
These help to establish your employment history. Your lender will look for any gaps in your history. Be prepared with the last two years of statements for the application.
Bank Statements
To verify your liquid assets, lenders will want two months' worth of your various banking accounts, including checking, savings, retirement, and investment accounts.
Other Possible Required Documents
More documents may be required for a VA loan in certain circumstances. Here are some possibilities:
VA Disability Awards Letter
If you have injuries or illnesses that occurred during active duty that resulted in disability compensation, you will need to share a copy of your Disability Awards letter with your lender. This will help verify your income and employment status for the loan.
Social Security Awards Letter
If you are receiving Social Security benefits, this will play into your income eligibility and your lender will need proof.
Divorce Decree
If you are divorced and pay child support or alimony, you will need to provide documentation from the settlement.
Bankruptcy Discharge Letter and History
If you have ever been through a bankruptcy, your lender needs to know about it. It does not mean you will be disqualified, but there may be time restrictions on when you can get a VA loan again. 
While this list might seem overwhelming at first, most of these documents should already be in your possession or very easy to obtain online. And the effort of gathering your paperwork will definitely be worth it to get a VA loan with all its amazing benefits.
These materials are not from HUD or FHA and were not approved by HUD or a government agency.